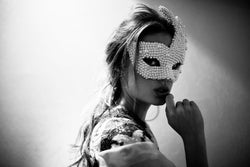 Titre : Hugh Lippe - Naty
Édition : Limitée à 10 exemplaires
Certificat : Un certificat d'authenticité signé par l'artiste est délivré
Prix : Sur Demande
Biography : Born and raised in Texas, Hugh moved to the East Coast to pursue a degree in Liberal Arts at Rhode Island School of Design (RISD), where he developed a strong foundation in the arts.
Upon graduation, Hugh's work began exhibiting in numerous galleries and was acquired by collections Worldwide.Hugh possess an intuitive eye, devoted to documenting the World around him with a cinematographic approach across both personally and commercially inspired work. His quick ability to connect to the character allows Hugh to achieve intimacy with models and celebrities alike, capturing genuine moments within many settings.
Some of his editorial features can be found in L'Uomo Vogue, Vogue, L'Official, Russh, VS, FAT, Exit, Hero, Dazed and Confused, The Journal, So It Goes., W, and Interview.Through Hugh's passion for narrative, his talent naturally extended into film where he enjoys exploring deeper themes.
He recently created films for W and Nowness. Notably, his films 'Angel Heart' (for Nowness), was later featured at the Madrid Film festival and 'American Blonde,' featuring Anna Ewers, was officially selected for the Milano Film Festival.Hugh currently lives and works in New York City.
ⓘ Pour Contacter un de nos experts