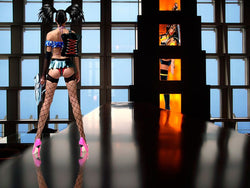 Kanjo Take - Manga Expect
Titre : Kanjo Take - Manga Expect
Édition : Limitée à 10 exemplaires
Certificat : Un certificat d'authenticité signé par l'artiste est délivré
Dimension : 152 x 99cm
Prix : Sur Demande
Biographie :
The Fabulous world of Mangas. Kanjo Take was born in Berlin in 1953 as the son of a Japanese father and a German mother. Following his studies of painting at the Escuela de Ballas Artes in Spain, he attended the HDK – Universität der künste (Berlin University of the Arts) in Berlin for photography and studied verbal and visual communication finishing the studies with a diploma thesis.
As one of the youngest and most successful Art Director of his time, he lived in Tokyo, London, New York, Zurich and Hamburg. He is considered to be one of the greater still-lifers in the world and made impressive campaigns as an Art Director and photographer. In 2002 he was one of the first to work with the digital camera of Olympus, the most innovative at the time.
Thus, a new era of creation began. Olympus gave the photo artist complete freedom to create photo projects in order to present these worldwide with the new technology. From this resulted a series of advertising campaigns for the biggest fashion names like Yves Saint Laurent and Vivien Westwood. It is remarkable that Take entered the people and art fashion field here for the first time, and with a "roll of the drums" aroused the interest of the international photo press.
In the summer of 2005 Kanjo Take organized the first creative national Chinese photo competition at the Tongji University in Shanghai. Kanjo Take created the most original Photomangas worldwide so far, which was on show for more than three months in the Museum of Contemporary Art Shanghai in 2006. That same year the Chinese Vogue did a 10 pages spread on Take's Manga world in connection with the exhibition. His next exhibition will be in September 2009 at the Art Club Hamburg including a big show at the planetarium where his most valuable work will be projected into the cupola.
After this, his work will exposed at the Deutsche Museum Bonn in Berlin at the Academy of Art. Nowadays Kanjo Take's work is selected by the most famous curators all over the world, from New York to Tokyo and Paris…
ⓘ Pour Contacter un de nos experts