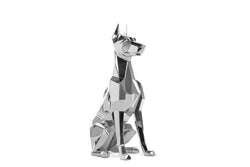 ANDREW - The Sitting Doberman
Price: 
 44  x 27 x 16 cm = 6 500 AED
73 cm = 22 000 AED 
Technics : Stainless Steel Sculpture, Mirro polished

About the sculpture:  Strict geometry, impeccable architecture of flat faces, minimalism, conciseness combined with elegance have become the artist's hallmark.

Andrew is a talented sculptor and metal artist. He works exceptionally well with low poly steel sculptures, creating the perfect forms of animals in his workshop. Andrew feels and shows the absolute harmony and beauty of animals. Andrew's sculptures are mysterious creations having sophisticated nature intended to give a glimpse into soul of the animal. Andrew's unique collections, created with the best high-quality materials, reflect his passion for shape perfection and craftsmanship techniques. His ambition with every work is to sculpt the character, the presence, the movement and the likeness of the animal so that fleeting spark of excitement, passion and beauty can endure. To capture the life, the energy and the willingness of spirit in steel is a huge, never-ending challenge to which he is becoming increasingly addicted.
ⓘ Pour Contacter un de nos experts