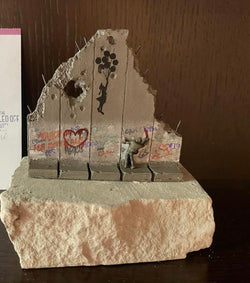 BANKSY Wall Souvenir - From The Walled Off Hotel
Date: 2018

Dimensions: 12 x 10cm 
Medium: concrete 
Collection: Unsigned and marked with a unique reference number on the underside. New although some imperfections may exist given the nature of the material. Sold with the original receipt from WOH. 
Information: Miniature concrete souvenir sculpture, hand painted by local artists Open edition. The Souvenir Wall Section consists of a mini stretch of separation wall decorated with recreations of well-loved graffiti. Lovingly hand painted by local craftspeople.
Made from enhanced polymer resin on a stone plinth extracted from the dividing wall.
Graffiti artist Banksy opened 'The Walled Off Hotel' in the Palestinian city of Bethlehem in March 2017, his first major project since Dismaland in 2015. 'The Walled Off Hotel' is only a few metres the West Bank barrier. Only visitors staying at the art hotel in Bethlehem are able to purchase souvenirs and gifts designed by Banksy. It is very difficult to get these pieces as each person can only purchase 2 items.
ⓘ Pour Contacter un de nos experts