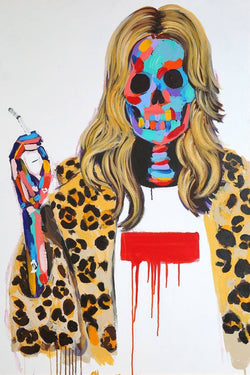 Bradley Theodore - Kate Supreme
Titre : Bradley Theodore - Kate Supreme
Prix : Sur Demande
Certificat : Un certificat d'authenticité signé par l'artiste est délivré
Biographie :
Born in Turks and Caicos, raised between New York and Miami, Bradley Theodore has been an internationally-inclined artist and collaborator from his very beginnings. Having worked in the tech and design sector after his graduation from the School of Visual Arts, Theodore eventually moved back to New York where his artistic career took off.
With roots in graphic design, Theodore's beginnings as an artist came from adorning the streets of New York City with vibrant, chromatic murals of skeletons depicting contemporary pop culture and fashion "royalty." Bradley Theodore is known for his colorful paintings and prints of fashion icons.
He is a multi-disciplinary artist whose iconoclastic approach to art can be found internationally, from 10-foot murals on the streets of New York, Tokyo, and Milan, to sold-out solo exhibitions in London. Evoking the universality of color, skeletons, and celebrity, Bradley Theodore distills figures to skeletal forms, a confrontation that the artist calls "an act of living", pushing color to express memory, emotion, and lived experiences.
Theodore's portraits juxtapose the legendary and mortal qualities of modern and contemporary fashion icons and the artist has become a staple in the art and fashion scene in New York City. Theodore has collaborated with popular artists and brands on creative projects, including Moët, Rolls-Royce, and Moleskine.
In 2016, Bradley was the official artist for the US Open, where he created four murals on display at the tournament's venue; and was the subject of independent film "Becoming: Bradley Theodore", which premiered at the Tribeca Film Festival. In 2017, Google invited Theodore to their Artist in Residence program (AiR), where he employed the tech giant's Tilt Brush tool to create art in another dimension and invite viewers to experience his creations in a more intimate way.
Most recently, in 2018, for the 50th anniversary of PUMA's Suede, Bradley designed a limited edition series of sneakers and garments. Launching in early 2019, will be Bradley's second collaboration PUMA, featuring a more extensive collection. The artist currently lives and works in Miami.
ⓘ Pour Contacter un de nos experts