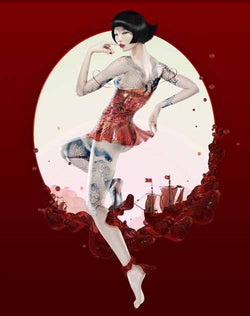 Titre : Chen Man - Red Beauty 39
Édition : Limitée à 7 exemplaires
Certificat : Un certificat d'authenticité signé par l'artiste est délivré
Prix : Sur Demande
Biographie :
Chen Man (Chinese, b.1980) is a photographer who graduated with a BA from the Central Academy of Fine Arts in Beijing in 2005. She is regarded as a premiere fashion photographer in her native China, and all over the world, due to her use of staging and extensive postproduction finishing, all of which she does herself.
She is famous for using 3-D rendering in her finished photos using a program called 3D Max. In addition, she often adds colors and textures that were not in the original picture using photo finishing software, such as Photoshop, to achieve a look that she describes as "Chinese essence, Western method," or a mixture of "mainstream and alternative" looks. Chen first became famous for her unique style in 2003, while she was still a student at the Central Academy of Fine Arts. She photographed a series of covers for Vision, a design and art magazine based in China. With these covers, she helped usher in a new generation of artists who wished to combine old Chinese sensibilities with modern techniques to create art.
Since that initial foray into magazines, she has gone on to have her pictures featured in other publications such as Vogue China, Cosmopolitan, Elle, Marie Claire, Madam Figaro, Preference, Nylon, Unlimited, and Esquire. She has also done print advertising campaigns for several international companies, such as Adidas and Motorola. Chen's work has been featured in a number of galleries and museums across the globe, including the China Design exhibition in 2008 at the Victoria and Albert Museum in London, where one of her pictures was used to publicize the special exhibit. She has also had her largest photos on display at the Hotel Royal Monceau in Paris in an exhibit called Demolition Party.
Her work has been on display at Fabien Fryns Fine Art gallery in Los Angeles, Hai Gallery in London, Gallery Joyart in Beijing, Galerie Loft in Paris, OOIBOTOS Gallery in Hong Kong, Galerie Maeght in Paris, and Today Arts Museum in Beijing. She showed her pride in China with her series Long Live Motherland China. Chen currently lives and works in Beijing.
ⓘ Pour Contacter un de nos experts