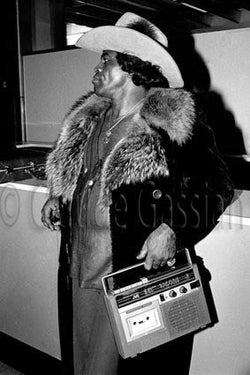 Claude Gassian - James Brown, Nice
Titre : Claude Gassian - James Brown, Nice , 1981
Prix : Sur demande
Certificat : Un certificat d'authenticité signé par l'artiste est délivré
Biographie de l'artiste :
To embrace his passion fully, Claude Gassian began using his father's box camera at the dawn of the '70s. To be up against the stage or in the wings. To see Led Zeppelin at L'Olympia in late '69; Hendrix on the Isle of Wight… Gig after gig, the photographer honed his eye and garnered his first publications in the music press (Best, Rock&Folk, etc.) before making his mark as a vital partner of the general-interest press. But the real photographic revelation occurred a few years later with the explosion of rock, and the emergence of a new generation who were sharper-edged but also more accessible…

At that time, Claude Gassian developed a unique style that opened doors to the private lives of the greats. After the Eurythmics in 1986, the Rolling Stones and Prince took him on tour in the '90s… He pursued his photographic experiments with several French artists, which yielded various albums including one recently devoted to Vanessa Paradis. His oeuvre is retraced in several books (Rock Images in 1990, and Claude Gassian photographies 1970-2001, an imposing tome published in 2001 by Editions La Martinière), as well as many exhibitions (Galerie Acte 2 in 2002, Museum of Contemporary Art in Lyon in 2003, Govinda Gallery in Washington in 2007, etc.) In the '90s, besides his photographs of musicians, Gassian carried out a very personal exploration into graphic structures and urban landscapes, which form a stark counterpoint to his "rock pictures".
ⓘ Pour Contacter un de nos experts