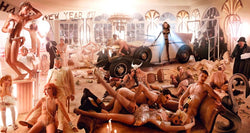 David Lachapelle - Maybach
Titre : David Lachapelle - Maybach
Edition : Limitée à 10 exemplaires
Certificat : Un certificat d'authenticité signé par l'artiste est délivré
Prix : Sur demande
Biographie de l'artiste :
When LaChapelle was 17 years old, he met Andy Warhol, who hired him as a photographer for Interview. Warhol reportedly told LaChapelle "Do whatever you want. Just make sure everybody looks good."
LaChapelle's friends during this period included Keith Haring and Jean-Michel Basquiat. LaChapelle's images subsequently appeared on the covers and pages of magazines such as Details, GQ, i-D, The New York Times Magazine, Rolling Stone, The Face, Vanity Fair, Vogue Italia, and Vogue Paris.LaChapelle's work has been called "meticulously created in a high-gloss, color-popping, hyper-realistic style", and his photos are known to, "crackle with subversive – or at least hilarious – ideas, rude energy and laughter.
They are full of juicy life." In 1995 David LaChapelle shot the famous 'kissing sailors' advertisement for Diesel. It was staged at the peace celebration of World War II and became one of the first public advertisements showing a gay or lesbian couple kissing. Much of its controversy was due it being published at height of the Don't ask, Don't tell debates in United States, which had led to the U.S. Government to bar openly gay, lesbian, or bisexual persons from military service. In a long article published by Frieze in 1996, the advertisement was credited for its "overarching tone of heavy-handed humor and sarcasm".
In September 2011 when the Don't ask, Don't tell law was finally removed by President Barack Obama, Renzo Rosso, the founder and president of Diesel who originally had approved and pushed for the advertisement, said "16 years ago people wouldn't stop complaining about this ad. Now it's (open bi- and homosexuality in the U.S. Military) finally accepted legally.
ⓘ Pour Contacter un de nos experts