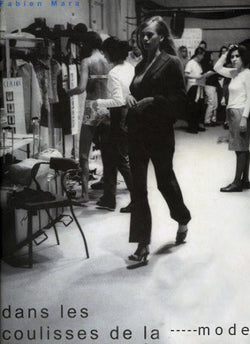 Fabien Mara - Book "dans les coulisses de la mode"
Titre : Fabien Mara - Book "dans les coulisses de la mode"
Prix : Sur Demande
Certificat : Un certificat d'authenticité signé par l'artiste est délivré
Biographie :
Fabien Mara is a photographer, best known for his pictures taken behind the scenes of the fashion shows in the 90s.
He is the first photographer to have published a book on the subject in 1998.What will bring Fabien Mara towards fashion photography, is the meeting with a famous fashion editor who works for Elle and Conde Nast pubications she proposes him an assistant's post . He than becomes himself a fashion editor for a well known independent magazine and flies away for New York Over there, he works with many famous fashion and portrait photographers and art directors like, Bert Stern, Steven Miesel,Fabien Baron, to quote only a few.Seeing the images unfolding in front of is eyes created in him the desire to be the one who captures them.
In Paris he will photograph the backstage of the fashion shows from 1991 till 1998 as a personal project. at the beginning i remember we were three or four photographers backstage, towards the end theirs were hundreds of journalist wanted to get access. Having worked during 7 years behind the scenes of fashion shows at the time of the "supermodels" the women are naturally at the heart of Fabien Mara's work. Not confining itself to the world of fashion, he also photographed various personalities actors and artists.
Working today essentially on personal projects intending to be published or exposed , he approaches from now on other themes such as the landscape, urban or rural, that he mixes as well with texts to make what he calls is paintings Fabien Mara's work was showned in numerous exhibitions in France, but also in Taiwan, in Bogota or in Prague. He exposed his works at fairs like Paris Photo and the Fiac, and appears among the collections of the European House of the Photography in Paris as well as in numerous private collections.
ⓘ Pour Contacter un de nos experts