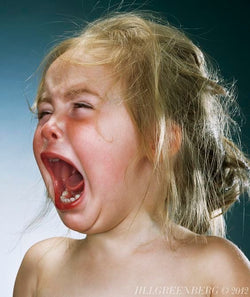 Jill Greenberg - The End Times Series "Shock, Tessa"
Titre : Jill Greenberg - The End Times Series "Shock, Tessa" 2006
Edition : Limitée à 10 exemplaires
Certificat : Un certificat d'authenticité signé par l'artiste est délivré
Prix : Sur demande
Biographie de l'artiste :
Jill Greenberg is an internationally renowned artist and photographer whose work is instantly recognizable due to her personally executed postproduction and her mastery of studio lighting. Since the age of 10, Jill has staged photographs and created characters using the mediums of drawing, painting, sculpture, film and photography.
Her background in illustration and painting is evident in her work, and her background in semiotics and art history is evident in the subject matter she explores. An early adopter of digital effects, Greenberg has developed a world that is more intense, more razor- sharp than the one in which we actually reside. Jill Greenberg creates portraits that seize our attention and tug at our emotions.
Best known for her infamous series, "End Times," her work struck a nerve in its exploration of environmental themes exploiting the raw emotion of toddlers unable to use their words. Additionally, she is recognized for her portrait work of animals, exploring the trope of studio and celebrity portraiture as well as power dynamics between viewer and subject, humans and animals. These series were photographed on medium format film, then drum scanned, and finally enhanced with digital "hand painting" techniques. "Glass Ceiling," and "Horse," marked a return to the 80's feminist theory that inspired her senior thesis, "The Female Object" while an art student at RISD in the 80's.
ⓘ Pour Contacter un de nos experts