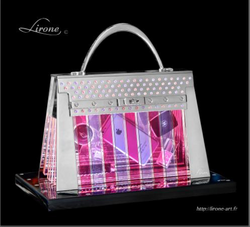 Lirone - "My wife's handbag" 2019
Title: "My wife's handbag" 2019 
Material: aluminium, steel 
Size: 40x30x20cm - base 80cm 
Edition: Sculpture unique artwork 
Certificat : Un certificat d'authenticité signé par l'artiste est délivré
Lirone's description: 
Lirone is a french plastic photographer. As a teenager, he became interested in photography and discovered a real passion for it. Practicing photography as a professional and guided by his passion for images, he was constantly in search of innovative photography techniques. In 2006, he created a totally innovative concept that combines photography, painting, and sculpture in an aesthetic and original way. He began sculpting like a jeweler, meticulously using aluminium, wood and steel. In all these works he integrates his own photographs such as the mechanisms of watches. He has collaborated with these prestigious watch brands (Cartier, Rolex...) for many years. This concept is bases on a direct visualization process of a 3D image. This process is the subject of a patent registered at the INPI for international coverage since August 2006.
"My works are made to rest, to release serenity, to let oneself be carried away. It's the window to the outside. The volume effect helps to create this feeling. Images are an integral part of matter. It is a patent that I have been filling for a few years now. There is something timeless in my works, something relaxing is often timeless, not visual weariness". 
ⓘ Pour Contacter un de nos experts