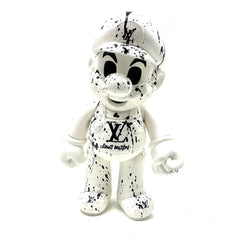 Size: 50 cm 
Unique piece signed
About the artist: 
Young Nancy artist born in 1991, Théo MHS, from an early age, had a strong taste for artistic creation.
Self-taught from the Street Art culture, he was able to develop his artistic skills on his own. He first expressed his art through graffiti, tags and other drawings...
A little later, his works take a more ARTPOP turn when he integrates different brands into his universe.
Théo MHS quickly made a name for himself for his refined creations via his various media.
His works underline the contrast between two worlds. That of diverted objects where he knew how to subtly put them forward, by mixing trends, the luxury of essential brands and the Street Art side.
ⓘ Pour Contacter un de nos experts