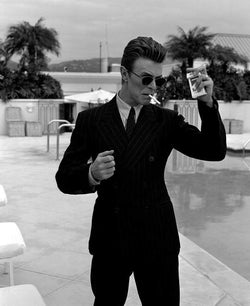 Michel Haddi - David Bowie, Los Angeles
Titre : Michel Haddi - David Bowie, Los Angeles, 1990
Edition : Limitée à 12 exemplaires
Certificat : Un certificat d'authenticité signé par l'artiste est délivré
Prix : Sur demande
Biographie de l'artiste :
Michel Haddi is born in Paris. He is the only child of a French soldier who he's never met, and his mother Halima Haddi, an Algerian woman of Turkish, Moroccan and Berber origin.Michel spends a number of years in a Catholic orphanage, the Sisters of Saint Vincent de Paul in Paris while Halima is employed in a smart Parisian hotel.
Hotel guests often leave fashion magazines behind and Halima gives them to Michel. Copies of Vogue Magazine fascinate him; the lives of the rich and the famous fascinate him and the photography… always the photography fascinates him.
Early stages of CareerAt the age of 18, Michel has a crush on a photo by Helmut Newton that made the cover of Vogue. At the time, he has two jobs: his first, as a waiter in a very well-known gay restaurant provides the perfect opportunity to see all the stars of the moment when they come to have a drink, and a second, as night watchman at the Hotel des Bains provides plenty of downtime to think about what he really wants to do with his life. His dream is to leave Paris and become a photographer.
ⓘ Pour Contacter un de nos experts