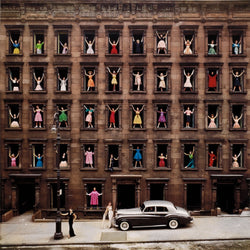 Ormond Gigli - "Girls in the Windows, New York City" 1960
Title: Ormond Gigli - "Girls in the Windows, New York City" 1960 
Material: Chromogenic Print 
Size: 125x125cm 
Edition: Gad Collection / Limited edition of 75 
Certificat : Un certificat d'authenticité signé par l'artiste est délivré
Ormond Gigli's Description:
Ormond Gigli became famous early during the 1950s for his photographs of theatre, celebrities, dance, exotic persons, and international publications. During the 1970s and the 1980s, Gigli turned to advertising photography, while continuing his editorial work. His assignments took him around the world many times. Girls in the Windows: And Other stories is the first book to survey the work of Ormond Gigli and escorts the viewer behind the facade of this incredible photograph. 
"Girls in the Windows's Description:
"It was the summer of 1960, I glanced out of the window of my studio in Manhattan and noticed that a row of Brownstones opposite were being prepared for demolition. Looking at the design of the empty windows, an idea struck me: put a woman wearing colorful cloths in each of the openings. I sent over someone from my staff to talk to the demolition supervisor. He agreed to let us go ahead - provided we used his wife in the photograph. We could shoot the next day during their lunch hour, he said. After that, the building would be gone. So, with 24hours to pull it off, we called up all our contacts to find models and locate a Rolls-Royce to sit on the sidewalk in front. The next morning I was in the studio and had the feeling that it was going to work out. Then my assistant came and said: "Ormond, you'd better get the camera up on the fire escape. There are people filling up the windows and more coming in taxis". All of a sudden it was happening. There were models, socialites, my wife, the supervisor's wife, all wearing their best dresses. I moved them around to spread out the colors and told them to pose as if they were giving someone a kiss. The noon sun was overhead and the light shone between the streets. Miraculously, the police didn't come by and stop us - and within an hour, I'd got my shot". 
ⓘ Pour Contacter un de nos experts