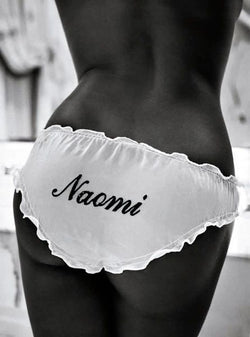 Patrick Demarchelier - Naomi Campbell 2007
Titre : Patrick Demarchelier - Naomi Campbell 2017
Prix : Sur demande
Certificat : Un certificat d'authenticité signé par l'artiste est délivré
Biography Patrick Demarchelier : 
Patrick Demarchelier is one of the world's most coveted fashion photographers. He has created iconic portraits and photographed covers and campaigns for many influential publications and fashion houses.
In 2003, he said: "I have no formal qualifications, just the school of life. I learned most by just taking pictures; a lot of pictures. I've made plenty of mistakes, but it's often from your mistakes that you learn most. Being a photographer is like being an athlete. You must practice every day."Born in 1943, Demarchelier was raised in the small town of La Havre, near Paris, by his mother.His love of photography began aged 17 when he was given his first camera by his stepfather.
He moved to Paris at the age of 20 to work for a photography lab, printing newspaper photographs. He later became the assistant to a photographer who shot film magazine covers and eventually the assistant to Hans Feurer, a photographer who worked with Vogue. He worked with Grace Coddington during her tenure at British Vogue and has credited her with helping to launch his career. "It was the best magazine in the world, the one you really wanted to work for, so to be with her was a big breakthrough," he told the Telegraph in 2012. In 1975, having won a reputation as a respected fashion photographer in France, Demarchelier decided to follow his girlfriend to New York, despite not speaking a word of English.
He worked as a freelance photographer and assisted the likes of Henry Cartier-Bresson, Terry King and Jacques Guilbert.His work has since featured in numerous publications, including many Vogue covers, and he has shot campaigns for Calvin Klein, Ralph Lauren, Chanel, Elizabeth Arden, Dior, Giorgio Armani and Louis Vuitton to name just a few.In 1989, he became the personal photographer of Diana, Princess of Wales, who contacted him after seeing one of his photographs on the cover of Vogue.
"I remember when she first contacted me. I had done a picture for Vogue in which a model was opening her coat to show a picture of a little, laughing boy tucked into the inside pocket. The boy was, in fact, my son, and Diana, maybe because of her little boys, loved that picture so much that she got in touch. We became friends. She was funny and kind - but fundamentally she was a very simple woman who liked very simple things," he told the Telegraph in 2008. 
He has said that his favourite subject to photograph is his dachshund, Puffy. "When people ask me which is your favourite portrait, they expect it to be Diana, or someone famous. But the answer is my dog, Puffy. They think I mean Puff Daddy. No, it is the dog," he told the Telegraph in 2012. He shot the Pirelli calendar in 2005, 2008 and the 50th anniversary issue with Peter Lindberg in 2014.He lives in New York with his wife Mia, a former model, with whom he has three children.

ⓘ Pour Contacter un de nos experts