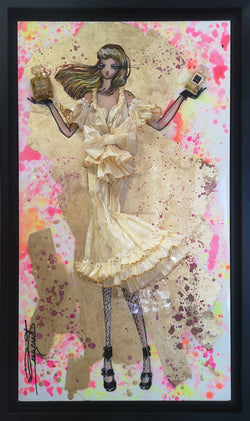 Rachel Bergeret : Baby Doll
Size:   74 x 45 cm 
Technique  : 3D recycled Designer shopping bags, 24 Karat gold leaf
Edition:  Unique copy
Certificate:  Work signed by the artist and certificate of authenticity 
About his works:

 Rachel Bergeret, stylist by trade, created her heroine over 10 years ago.

We call it ''La Parisienne'': The wavy hair, the dominance of gold by Gustav Klimt, the audacity of Toulouse Lautrec and the modernity of Edmond Kiraz have greatly influenced Rachel Bergeret since her early childhood.

Thanks to her creativity, Rachel Bergeret thus composes three-dimensional works with a predominance for painting and recycling brand bags, perfume bottles  gold, pearls, flowers will come together under his brushstrokes to give unique works.

Rachel Bergeret is a popular French artist that the fashion world adores.
ⓘ Pour Contacter un de nos experts