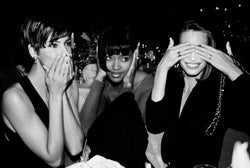 Roxanne Lowit - Linda Evangelista, Naomi Campbell, Christy Turlington
Titre : Roxanne Lowit - Linda Evangelista, Naomi Campbell, Christy Turlington
Édition : Limitée à 10 exemplaires
Certificat : Un certificat d'authenticité signé par l'artiste est délivré
Dimension : 152 x 102 cm
Prix : Sur Demande
Biographie :
The Star Photographer. Roxanne Lowit is a New York-based fashion and celebrity photographer who is said to have "become as much a celebrity as those she photographed." Lowit did not go to school to be a photographer.
She graduated from the Fashion Institute of Technology in New York with a degree in art history and textile design. It was during her successful career as a textile designer that she realized something: "I paint and there were people who I wanted to sit for me but had no time, so I started taking pictures of them. I liked the gratification of getting the instant image so I traded in my paintbrushes for a camera."
Lowit started making pictures in the late 70's with her 110 Instamatic, photographing her own designs at the New York fashion shows. Before long she was covering all the designers in Paris where her friends – models like Jerry Hall – would sneak her backstage. It was there that she found her place (and career) in fashion. "For me, that's where it was happening," she says. Today, her photographs have appeared in many magazines, such as Vanity Fair, Elle, and Glamour, and became a vehicle for much of her advertising work, including campaigns for Dior and Vivian Westwood.
The Metropolitan Museum of Art, the Whitney Museum of American Art, and the Victoria and Albert Museum in London have all exhibited the work of Roxanne Lowit. Her images are on display in the permanent collection of the Kobe Fashion Museum Roxanne's many group shows include the Gagosian Gallery and Art Basel Miami. She has had one-woman shows in New York, Paris, Monte Carlo, Amsterdam, Düsseldorf, and Berlin.
Her books, Moments (1990) and People (2001) provide a striking visual chronicle of the creative energy of the international nightlife from the past thirty years. Roxanne has also been the recipient of many awards. She has photographed thousands of personalities from the worlds of fashion, art, theater, film, and society at work and play like Andy Warhol, Salvador Dali, Yves Saint-Laurent, and George Clooney to name a few. After three decades of shooting, Roxanne Lowit, changed fashion photography forever.
ⓘ Pour Contacter un de nos experts