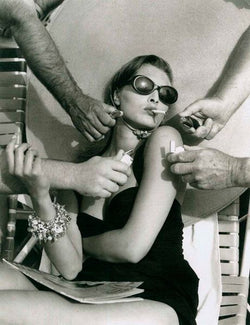 Titre : Steven White - Cruise #3
Dimension : 122 x 140cm
Edition : Édition limitée à 15 exemplaires
Certificat : Un certificat d'authenticité signé par l'artiste est délivré
Biographie de Steven White: Steven White was born and raised in the United States. However, he began his photography career in Milan where he worked for magazines such as Bazaar and L'Uomo Vogue. Some of the campaigns he shot were: Krizia, Breitling, Swatch, La Perla, and Valentino. After two years in Europe, White moved to New York.
There he began working for Harpers Bazaar, several European editions of Vogue, Coach Leather, Bergdorf Goodman, and Armani. After five years in N.Y. he decided to focus on travel photography and personal work. His travels took him to such places as Peru, India, Thailand, Cuba, Sri Lanka, Africa, S. Africa, Central and South America. This body of work is currently being edited for book publication.
His recent editorial publications have been for Maxim, FHM, Esquire, Conde Nast Traveler and Sports Illustrated Swimsuit Edition. He has recently shot campaigns for Guess, Puma, Budweiser & Michelob beer, Buckle, Lei, Captain Morgan Rum, Club Med.
ⓘ Pour Contacter un de nos experts