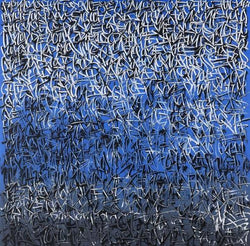 Titre : Tanc - Untitled
Édition : Exemplaire unique
Certificat : Un certificat d'authenticité signé par l'artiste est délivré
Dimension : 200 x 200cm
Biographie : Tanc the most promising artists of his generation.
TANC grew up as a graffiti artist in the 90s in France and tagged his pseudonym around the city's walls. Throughout the years, he broadened his practice towards other visual arts including typographic graphic design. However, graffiti remained a strong influence in his practice. Another important element in his process is music. TANC creates electronic music which influences his application of marks and lines on his canvases. In his 'Automatic Writing', his subconscious mind and hands are synced together to create a unique language with spray paint. To him, the artistic process is more important than the end result. His work is exhibited in various places in the world including Marrakech Biennale in Marrakech, SLICK in Paris, Indian Art in New Delhi, Contemporary Art Fair in Basel and in Miami. TANC has had solo exhibitions in Lyon, Montpellier London, Lille, and Marrakesh, New York, to name a few.
Visual artist. Born in Paris on May 11, 1979, lives and works in Paris. Tanc's work bears the clear influence of abstract expressionist artists (the artist talks about Rothko, Pollock, Reinhardt, Hartung and especially Franz Kline are sources of inspiration in his practice). Tanc's practice reached a turning point: ever since his New York show at Catherine Ahnell Gallery, the artist left aside the colorful explosion that used to mark his paintings and is now more interested in nuances of black, lineary variations and automatic writing. This new direction evokes the work of Henri Michaux. Tanc is also a composer and certain notions from the electronic and experimental music inhabit his work, without any doubt; the obsession for rhythm and pulsation tend to produce an intense, fascinating painting with a unique vibrating dimension.
He has shows in France regularly, but his work has gained international prominence with exhibitions in Germany (Skalitzers Contemporary Art), in the UK (The French Art Studio), Morocco (David Bloch Gallery) or New York (Catherine Ahnell Gallery). Today Tanc exhibit at Le Royal Monceau Gallery Paris . His art is not replicable, and it is totally instinctive. He creates very little and he works in function of his pulsions. He creates his paintings in one single act called: "automatic writing".
ⓘ Pour Contacter un de nos experts