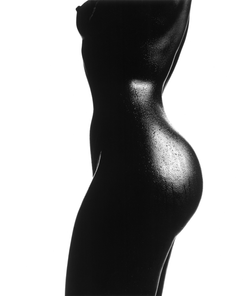 Thierry Le Gouès - Series Soul - 020
Titre : Thierry Le Gouès -Soul Book 020 - Model Tuly , Paris, 1994.
Edition : Tirage argentique limité à 15 exemplaires
Certificat : Tirage signé et numéroté +certificat d'authenticité 
Taille: 100 x100 cm
Prix : 6 000 €
Taille alternative: 150 x150 cm
Prix : 10 000 €
About the Series Soul :
At times Thierry Le Goues appears to be more of a sculptor than a photographer. His photographs of female nudes seem to depict figures more chiseled from stone than made of flesh and blood. Some images echo the streamlined, abstract human forms of sculptor Constantin Brancusi. In other shots, the stark contrast of light on the models' dark skin makes them appear like graceful, futuristic automatons. Le Goues, a fashion photographer by trade, began taking and collecting the photos for this book in order to expose the beauty of black women, whom he feels are underrepresented in the world of high-fashion modeling. Of the finished collection, he says: " Soul is an homage to my medium, which is the models who are my inspiration." To create his inimitable signature portraits, Le Goues covers his models--women such as Naomi Campbell and Iman--in greasepaint and poses them against stark, vacant backgrounds to heighten the sculptural elements of their forms. The resulting photographs are sensual, stirring, and beautiful works of art.
Biographie de l'artiste :
Born 1964 in Brest, France and lives in Paris. Began his career as a fashion photographer in 1986 working for the Conde Nast group. In Italy: Vogue and l'Uomo Vogue, marie claire. In France: Glamour, Vogue Homme International and VOGUE In England: Arena, Vogue, ID and Elle. In the USA: Harper's Bazaar, Allure, Detour, Interview, Vogue, W magazine and Flaunt magazine.In China : Harper's BazaarIn Spain : Marie Claire.
Campaigns : Aubade Le Printemps Boucheron Parfums Chaumet Georges Rech Kenzo Harrods Morgan Swatch Ralph Lauren Lavazza Calendar 2004 Cover Girl Replay BMW Nike Gatorade Pascale BruniPhillip Morrisla Rinascente Le Bon Marché KohlsHermès Hermès Parfum 24 FbgYves Saint Laurent / BeautyUltraviolet Parfum / Paco Rabanne MoschinoParfums Mumm Champagne Dove Antik Batik Redskins Zadig et Voltaire CartierIntimate Britney (Britney Spears lingerie) Saks Fifth AvenueNordstroms. Personal exhibitions:Les Indiens du Guatémala et Lacandons, Galerie du monde de l'art, Paris, December 1993.
Festival international de la photo de mode, on the theme of « Black Beauty», Carrousel du Louvre, Paris, October 1994:Personal exhibition in Cape Town, South Africa, November 1995. Exhibition « Popular », Galerie Acte II, Paris, March 2001..Exibition amazones, galerie acte 2 ,Paris. March 2005: Exibition amazones, Young galerie Bruxelles. March 2006: Group exhibitions :Festival International de la Photo de Mode de Budapest..Festival International de la Photo de Mode de Barcelona..Lauréat du Trophée Festival International de la Photo de Mode de Monaco..
Festival International de la Photo de Mode de Biarritz..
Books: Soul, Powerhouse Books, New York 1997 - Popular, Powerhouse Books, New York, November 2000- Amazones, Paco Rabanne, French Editions, 2011- Havana Boxing Club, Powerhouse Books, New York, 2015.
Magazines :In 2002 Thierry le Goues create the fashion. Magazine « french revue de modes » A bi-annual luxury fashion magazine .
ⓘ Pour Contacter un de nos experts