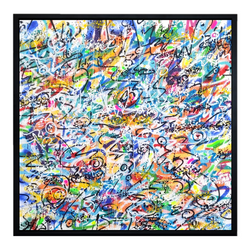 ZOKATOS - EVANESCENS 2020
PRICE: AED 33,500 - $9,500
PAINTING ON 75 LINEN CANVAS ON CHASSIS

150x150CM
Biography :
Lulled by the counter-culture of the 90s, Zokatos naturally turned to the street as their original field of expression. He kept from graffiti its brutality, its evocative force and a certain conception of painting. From the wall to the canvas, his work then evolved, while retaining the tools of street art , markers and aerosol cans for the most part. His abstract and colorful compositions now clash with the pragmatic and graying universe of the Parisian cities of his childhood.  
His work, already rich and varied for a 29-year-old artist, is an original synthesis mixing urban art and abstract art, moving from spray paint to watercolor , from canvas to sculpture, with the ease of the great autodidacts. The softness of a non-figurative aesthetic made up of shapes and bright colors is as if violated, brutalized by the tools used, the drips and the spontaneity of the artist's gesture.
We then think of an allegory of the dilemma of the urban artist, this constant tension between the street, eternal exhibition hall, and the canvas, a necessary evil. If seeking to bring his aesthetic closer to that of illustrious painters in one sense, we can cite the masters of the New York School: from Pollock's action-painting for the rhythm imprinted on each composition, to the post- painterly abstraction by Sam Francis, color genius.
We will also mention lyrical abstraction, Mathieu, Schneider, Hartung, whose artistic approach based on the absence of premeditation of the gesture and the speed of execution was conducive to revealing artistic genius, the paintings then becoming the direct transcription of the emotion of the painter. It is this same emotion that we find in the painting of Zokatos, the raw emotion of the artist who paints to exist and for whom the canvas, medium of vital expression, is an end in self.
ⓘ Pour Contacter un de nos experts